I. Equipment description:
This kind of winding packing machine is mainly used for winding packing of steel belt, steel wire, welding wire and other coiled materials, so that the packing can be relatively sealed, which can protect the steel belt and steel wire from rust, corrosion and dust. The machine has the advantages of high safety, fast packing speed, wide packing range and simple operation. It is the best choice for you to improve work efficiency, save working time, reduce product packaging cost and improve product grade.
Ii. Basic Features:
1, double ring transmission, reciprocating work. Safe and convenient.
2, frequency conversion control, according to the need to adjust the overlap of the packaging belt.
3. The slip ring can be moved up and down to adapt to steel wire with different inside and outside diameters.
4. The tightness of the packing belt can be adjusted.
5. The supporting roller and the roller are covered with polyurethane adhesive.
6. Equipped with end tape fixing device.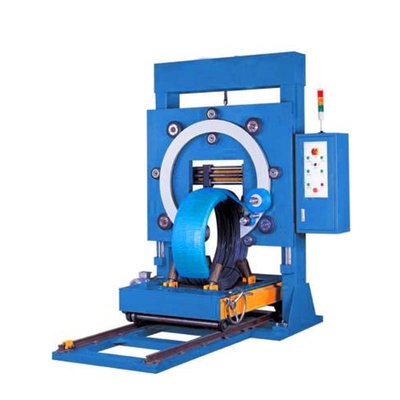 三,parameter of apparatus:


SAJX-300
Model


≦500kg
Product Weight


≦300mm
Product height


500-1000mm
Product outer diameter


≧300MM
Product inner diameter


2-4m/min
Linear speed of Roller


30-50r/min
Slip ring speed


PP woven belt and composite tape etc.
Packaging bag material


100-150mm
Width of binding tape


150mm
Outer diameter of binding tape


54mm
Inner diameter of binding tape


≈3.0kw
Power


380V,3phase 5-wire
Power Supply