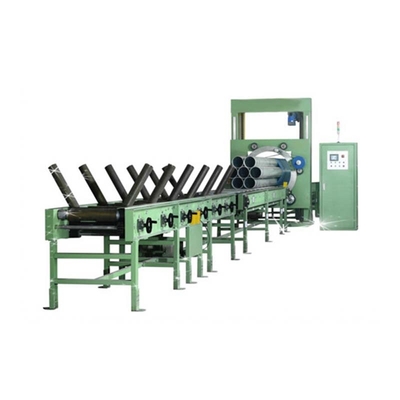 1. Equipment introduction: SASG series horizontal winding packaging machine is mainly used for metallurgy. A new type of winding packaging equipment designed and manufactured by the plastics industry is widely used in the winding packaging of all long products such as steel pipe, stainless steel pipe, copper pipe, aluminum pipe, plastic pipe, bar material, flat material, profile, cylinder and so on. After wrapping, the products are beautiful and fashionable in appearance, and have good functions of sealing, tight, strapping, moisture-proof, rust-proof, dust-proof, damage-proof and age-proof. The machine uses composite packaging paper tape, composite textile tape, winding film and other packaging materials.
2. Basic Features:
1, excellent configuration, the main components are adopted international and domestic famous brands.
2. PLC programmable controller and man-machine dialogue touch screen are adopted.
3. Automatic alarm, fault contents displayed in Chinese.
4. Photoelectric automatic tracking of packaging length, accurate positioning.
5, frequency conversion speed regulation, can be adjusted according to the need of the overlap of the packaging belt.
6. The horizontal height of the swivel center can be adjusted.
7. The tension of the packing belt can be adjusted.
The machine can be equipped with the following devices: 1, feeding manipulator; 2. Horizontal labeling device; 3. Multilateral forming device.
Three equipment parameters:


SASG-1600
Model


≦1600mm
Packing Diameter


No Limitation
Packing length


Composite tape/braid/plastic film W≦250mm
Packing material


2-4m/min
Conveying speed


20-40m/min
Ring speed


1000m
Conveying height


10000kg
Effective load


20%-70%
Overlapping range


≈About16KW
Gross power


380V/3-phase5-wire/50HZ
Power supply


≈ABOUT 5000KG
Weight


L19500mm*W3800mmx*H3100mm
Appearance dimensions